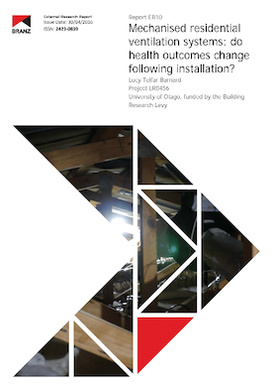 ER10 Mechanised residential ventilation systems: Do health outcomes change following installation?

(April 2016)
Product Description
This report is an evaluation of changes in the incidence of health events, pharmaceutical usage and mortality following installation in 44,889 homes of one of three companies' mechanised residential ventilation systems (MRVS) between 2009 and 2011.
Previous public health research suggests MRVS may reduce respiratory disease symptoms, but building science research suggests MRVS may make indoor temperatures lower in winter. Both respiratory and circulatory symptoms are adversely affected by cold indoor temperatures.
Conclusions were that:
MRVS must under no circumstances be installed in dwellings with asbestos roofs
the elderly and people with circulatory illness who wish to improve their home environment should consider all options carefully as MRVS installation may not be their best option for health
further research into why circulatory illness, as measured by prescriptions, appears to increase following installation of MRVS would be useful.
Product Information
| | |
| --- | --- |
| Publication date | 30 April 2016 |
| Author | Lucy Telfar-Barnard |
| System number | ER010 |