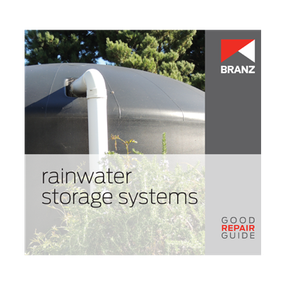 Good Repair Guide: Rainwater storage systems
Approximately 10% of New Zealand households rely on rainwater collected from roofs for their water supply. Typically, these are rural residential properties but may include country schools, camping grounds, marae and other community buildings. A number of fairly simple and relatively inexpensive measures can be introduced to existing systems to improve water quality
This Good Repair Guide looks at upgrading options and maintenance requirements for existing rainwater storage systems to ensure a quality potable roof water collection and storage system is maintained.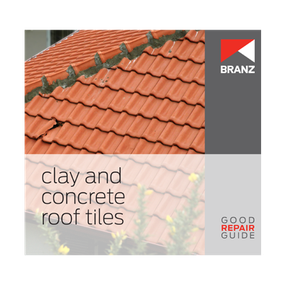 Good Repair Guide: Clay and concrete roof tiles
Clay and concrete tiles have long been popular choices of roofing material, particularly in severe coastal or thermal environments. As a general rule, clay and concrete tile roofs can be expected to last 50 or 60 years before needing replacement.
Regular checks and proper maintenance are critical to keep the roof in sound condition and to keep the water out. This Good Repair Guide focuses on the repair options for isolated areas of concern.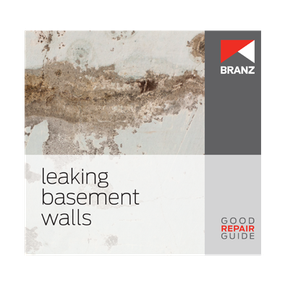 Good Repair Guide: Leaking basement walls
Residential basements are common in houses built on sloping ground and can be valuable and useful spaces if they are dry and warm. In many cases, the use of a basement changes over time as household size, lifestyle and interests change. 
Work may be required to upgrade the space. High internal humidity, musty odours and efflorescence in below-grade basements are all signs that moisture may be entering the space through porous concrete retaining walls. 
This Good Practice Guide covers only basement walls of residential buildings on sloping sites that are no more than one storey in height below natural ground and not subject to hydrostatic pressure. Where a wall is subject to hydrostatic pressure from groundwater or a spring, seek specific design advice from a specialist damp-proofing company.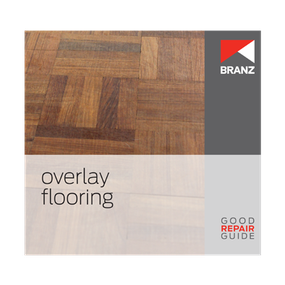 Good Repair Guide: Overlay flooring
Overlay flooring is a flooring system that is laid over timber tongue and groove (T&G) boards, particleboard, plywood or concrete. It includes solid timber boards, parquet flooring, timber composite flooring systems and bamboo flooring
This Good Repair Guide describes the repair options for existing overlay flooring. It describes how to: 
repair minor damage
replace a section of floor
replace an entire floor
prepare an overlay floor for a new protective finish.  
Floor coverings such as cork tiles, vinyl tiles or sheet vinyl are not covered by this guide.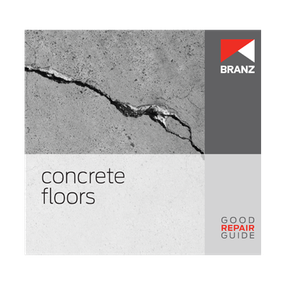 Good Repair Guide: Concrete floors
Although the many atttibutes of concrete such as compressive strength, excellent durability and versatility are well known, concrete floors are not completely immune from problems. This Good Repair Guide focuses on the restoration of the appearance of concrete floors.
Inconsistency of the original concrete mix, poor surface finishing and inadequate curing may result in a floor finish that is less than acceptable. Shrinkage cracking, staining, surface pitting and wear from vehicle or foot traffic can also be a problem.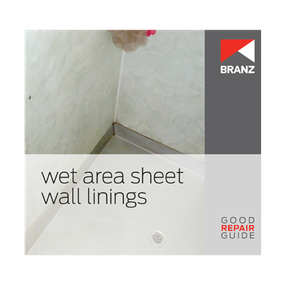 Good Repair Guide: Wet area sheet wall linings
Wet area sheet wall linings may be subjected to continual wetting, such as in showers and around baths with a shower over the bath, and splashing, such as the wall area immediately around the rim of a bath, outside an enclosed shower with a shower curtain only or behind basins, laundry tubs and sinks.
This Good Repair Guide looks at the options for repairing wet area sheet linings (factory-finished hardboard or fibre-cement panels, painted oil-tempered hardboard sheet and acrylic sheeting) and how to replace them if they cannot be repaired.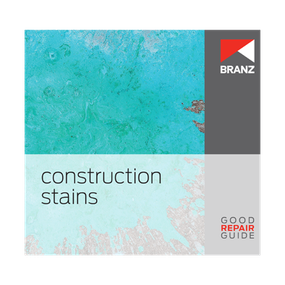 Good Repair Guide: Construction stains
Building and renovation work can result in spills and splashes causing undesirable staining on nearby surfaces. The most common substances likely to cause staining if not handled or used correctly include:
paints, varishes and stains (waterborne and solventborne)
oil, grease and wax
adhesives
sealants (silicone and latex)
concrete and cement-based mortar and grout
asphalt and tar.
 This Good Repair Guide covers:
the solvents and cleaners available for stain removal and the procedures for removing different types of construction-related stains without damaging the underlying material
physical removal options such as abrading, rubbing, sanding, scraping, sandblasting, grinding, steam cleaning, brushing or scouring where appropriate
dry materials that may be applied to a stain or spillage.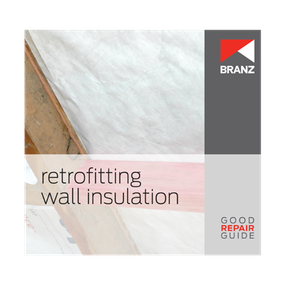 Good Repair Guide: Retrofitting wall insulation
Houses built before the late 1970s are unlikely to have any insulation in the walls unless major alterations or renovations have been carried out.
This Good Repair Guide explains options for retrofitting insulation into existing residential timber-framed walls. Insulation materials covered include fibreglass, polyester, wool and mineral wool (and blends of these) and rigid sheets such as polystyrene and PIR/PUR foam.
This guide does not cover blown-in and injected foam insulation or retrofitting insulation to walls where there is no access to the wall framing or solid construction such as concrete block, precast concrete, double-skin brick or solid timber.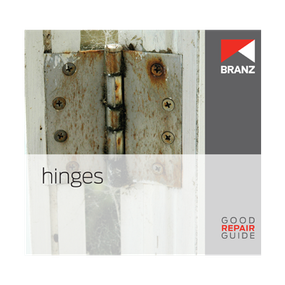 Good Repair Guide: Hinges
Hinges for timber doors and windows are frequently overlooked hardware items. It is not until they fail to operate properly that attention is paid to them. By the time this occurs, they are sometimes beyond refurbishment, and replacement is the only option. If problems are addressed before they become too serious, hinges can generally be refurbished and restored.
This Good Repair Guide looks at the types of hinges used with timber doors and windows, the problems that can occur and how they can be refurbished and, if necessary, replaced.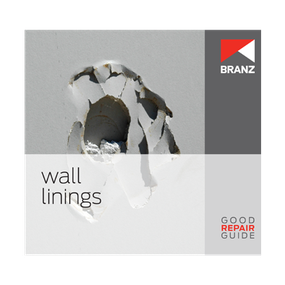 Good Repair Guide: Wall linings
General wear and tear in a house often results in damage to interior wall linings. Damage can range from repairable (a picture hook pulled out or a door handle through the wall) to the catastrophic (a major leak or structural failure). 
This Good Repair Guide outlines some options for repairing existing wall linings and guidelines for when to replace a sheet or larger area of lining.
Prefinished linings (such as melamine-faced boards) are not included in this guide.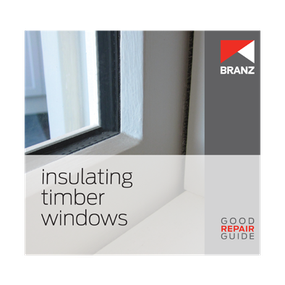 Good Repair Guide: Insulating timber windows
An estimated 1 million houses in New Zealand have timber-framed windows, and nearly all of these are single glazed. Although timber-framed windows have a thermal performance approximately 25% better than single-glazed aluminium, all single-glazed windows are the major source of heat loss. A number of the retrofit options for improving the thermal performance of timber windows achieve results that are comparable to full window replacement. Replacement will be necessary where existing timber windows are in poor condition.
As well as energy savings, other benefits include extending the life of existing windows, avoiding production of new materials, reducing waste, lowering the carbon footprint and preserving the character of a home.
This Good Repair Guide looks at the various options and the advantages and disadvantages of each when considering whether to thermally upgrade existing timber windows or replace them.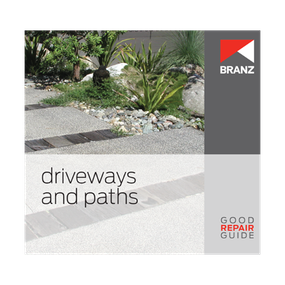 Good Repair Guide: Driveways and paths
Driveways and paths require maintenance and may need to be repaired from time to time. The frequency and type of repair depends on the surface finish. Paths and driveways can become overgrown, and tree roots growing underneath are likely to cause cracking and unevenness of the surface.
This Good Repair Guide identifies some of the common problems with driveways and paths and describes repair options. If damage is extensive, however, the best option may be removal and a full replacement of the driveway or path, which is outside the scope of this guide.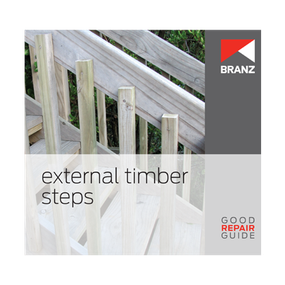 Good Repair Guide: External timber steps
External timber steps and handrails are exposed to all weather conditions, including regular wetting and drying and high levels of UV light. Regular wetting and drying causes swelling and shrinkage of the timber, while changes in ambient temperature results in continual thermal expansion and contraction. The constant movement of the timber causes warping and cupping, joints to open up, nails to pop and fixings to become loose. In addition, timber that remains wet for extended periods of time becomes slippery, and rotting may occur.
This Good Repair Guide identifies some of the common problems and repair options for external timber steps and handrails. When damage to external steps is extensive, the best option is often full replacement.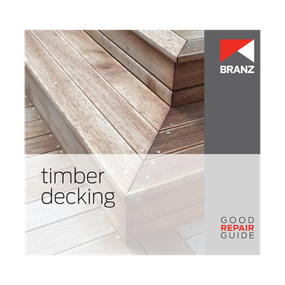 Good Repair Guide: Timber decking
Regular wetting and drying of timber decking results in timber swelling and shrinking. In combination with exposure to UV light and temperature changes, this can result in timber deterioration.
Timber slat decks are usually fully exposed to the weather. To deal with water dispersal, these decks have 3-6 mm gaps between the timber boards. Although villas and bungalows may have a roofed veranda or porch, the timber decking is still exposed to the weather. The decking in these houses is typically tongue and groove (T&G) boards, and they are laid with a fall to the exterior of the building to shed water.
This Good Repair Guide describes some of the common problems that can occur and how timber decking can be repaired and maintained.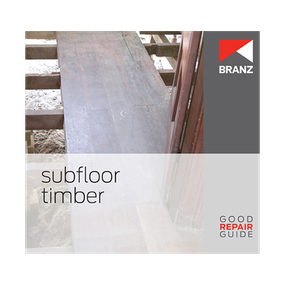 Good Repair Guide: Subfloor timber
A bouncy or springy floor or a floor that is noticeably uneven is often the first indication that there may be a problem with the subfloor framing.
Subfloor timbers include joists, bearers, wall plates, jack studs, braces and stringers. They are structural components of a building, and any damaged or understrength subfloor timbers must be repaired or replaced regardless of the cause.
This Good Repair Guide looks at the causes of common problems with subfloor timber and outlines the repair options.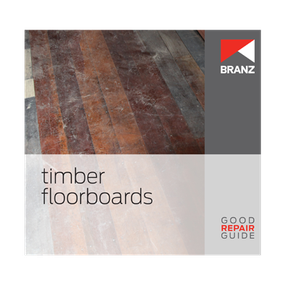 Good Repair Guide: Timber floorboards
Tongue and groove (T&G) timber floors laid over joists are a typical feature of older New Zealand homes. From the earliest houses until 1970s, all houses had timber floorboards.
Moisture changes in the timber can cause floorboards to expand and contract, and timber flooring is also susceptible to minor damage such as scuffs and scratches.
This Good Repair Guide describes the types of repairs that can be made where damage to floorboards is minor or localised. It does not cover major repairs or where the floor may need to be replaced as a result of subfloor or foundation failure.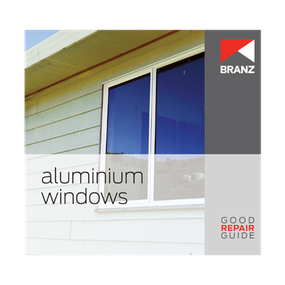 Good Repair Guide: Aluminium windows
Aluminium windows have been available in New Zealand since the late 1950s but were not frequently installed in houses until the early 1970s. Today, almost all window joinery is aluminium framed. Although considered to be maintenance free, all aluminium joinery requires cleaning, and in some circumstances, other care may be required, such as lubrication of hardware. Unless it has been well maintained, early aluminium joinery may now require replacement or removal and refurbishment. 
This guide covers the replacement of aluminium windows that are installed into walls with:
direct-fixed weatherboard and flat sheet claddings
brick veneer.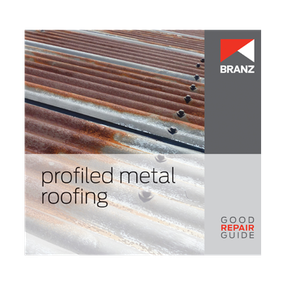 Good Repair Guide: Profiled metal roofing
Profiled metal roofs may need replacing for a variety of reasons, including cladding failure due to corrosion, leaks due to poor initial design or installation, damage caused by wind or falling trees, the need to match an older roof to a newer addition or imply a desire to change the appearance of the roof.
This Good Repair Guide covers:
why a roof may need replacing
the steps to take when removing an existing profiled metal roof and replacing it with new longrun profiled metal roof cladding.
It does not cover the replacement of the profiled metal roof cladding with another roofing type.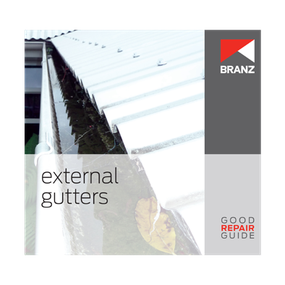 Good Repair Guide: External gutters
Roof gutters are an important component of the building envelope, designed to control the disposal of rainwater from the roof. The most important functions of gutters are to help protect against:
excessive or concentrated wetting of external wall surfaces
water getting inside the building roof space or wall framing
increased wetness of soils around the building and subsequent increased moisture loads on basement waterproofing 
undermining of areas around the building where there is controlled spillage onto the ground.
Leaking or overflowing gutters may cause problems with dampness in subfloor areas or basements or elevated moisture levels in cladding and within wall framing.
This Good Repair Guide covers the repair or replacement of fully accessible metal and plastic external gutters around the outside perimeter of the building that are fixed to a fascia board or rafter ends. It does not cover gutters that are concealed behind a proprietary metal fascia or internal or within-roof gutters.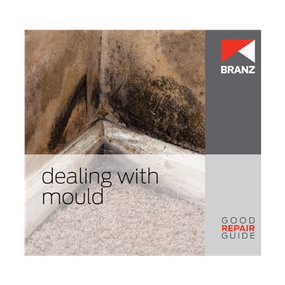 Good Repair Guide: Dealing with mould
As well as causing damage to building materials, internal mould growth in homes is unhealthy for many building occupants. While some moulds are harmless, others can cause health problems such as allergies, asthma and hay fever in some people, and a few moulds can cause more serious illness.
This Good Repair Guide outlines strategies for removing internal mould, controlling moisture and raising temperatures in order to minimise its reccurrence. It looks at what mould is, the problems and health consequences, cleaning methods for mould and improving ventilation.